Results – Iron Tiger 84
Iron Tiger Fight Series 84 went down at Express Live in Columbus, Ohio on Saturday night, and the event featured a total of eight bouts. In the main event, Trent McCown (8-3) submitted...

Results – BCM Promotions: Fight Night 3
Top ranked amateur light heavyweight Dalton Rosta (7-0) remained unbeaten with a victory in...
Results – Hardrock MMA 103
Hardrock MMA 103 went down in Lexington, Kentucky on Saturday night, and...
Results & Recap – Hardrock MMA 101
Hardrock MMA 101 marked the promotion's debut in Ohio, as the event...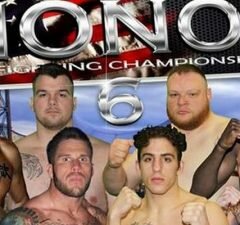 Results- HFC 6 ' Fight Night at Nautica'
Honor Fighting Championship made their way to Cleveland's Jacobs Pavillion at Nautica...
Results – Pure FC 9

What a beautiful fight night on the shores of Lake Michigan in Milwaukee Wisconsin. The Wisconsin Center is packed with fans and fighters, and I...

Results – Mo Miller tops Ty Mees at Caged Thunder 4

Caged Thunder 4 went down this past weekend in Akron, as 11 bouts took place on the amateur card. In the headliner, Mo Miller (4-0) stayed...

Results – Mike Mason and Jake Miller stay perfect at IT Fight Series 83

IT Fight Series 83 went down at Hollywood Casino in Columbus, Ohio on Friday night, and despite a few last-minute changes, the fight card still featured...

Results – Chandler Cole takes heavyweight title at Valor Fights 51

Valor Fights 51 went down this past wekend Johnson City, Tennessee, with ten bouts going down at the event. Headlining the festivities was a heavyweight title...

Results – Khama Worthy stops Brady Hovermale at Rivers Rumble MMA

Noted boxing promotion Made Men Promotions hosted its first mixed martial arts event in Pittsburgh over the weekend, and multiple fighters with strong ties to...

Fight 2 Win 79 Results

We are live at the Stars Indoor Sports complex in great Columbus, Ohio for Fight 2 Win 79. Competitors from all over the United Stars...

Results: Hardrock MMA 99 – Horne vs. Pringle

Hardrock MMA 99 takes place tonight at the Northern Kentucky Convention Center, with one of the deepest fight cards in recent memory, including a total...

Results: PFL2 – Dan Spohn stops Bozigit Ataev

Professional Fight League 2 showcased two local fighters in Dan "The Dragon" Spohn and Jason Butcher. Also competing on the card was two-time Olympic gold...

Results – Valor Fights 50

Valor Fights 50 went down at The International in Knoxville, Tennessee on Saturday night, and the event featured a total of nine bouts. A pair...

Results – Pinnacle FC 17

Pinnacle FC 17 goes down on Saturday night at Printscape Arena in Canonsburg, Pennsylvania, and the entire 13-bout lineup will be streamed live via FloCombat....