Adam Townsend headlines Brave 19 on December 8th
Adam Townsend returns abroad for his next fight as he as inked...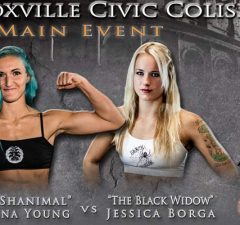 Four pro bouts set for all-pro Valor FC 54 in January
Tennessee's busiest promotion is set to kick off its 2019 campaign on...

Lots of local ties highlight double header on FloCombat Friday night
It's time to dust off that old FloCombat subscription (do online video...

Kellen VanCamp makes V3 debut Saturday
Kellen VanCamp (1-1) will take his talents on the road this weekend...
Doug Usher vs. David Mundel headlines Angel Fights: Road to M-1 Global 2 on PPV

NASHVILLE, Tenn. (July 31, 2018) – Florida veteran MMA fighter David "Redneck" Mundell has replaced injured Reggie "The Regulator" Pena in the main event against...

Results – Chandler Cole takes heavyweight title at Valor Fights 51

Valor Fights 51 went down this past wekend Johnson City, Tennessee, with ten bouts going down at the event. Headlining the festivities was a heavyweight title...

Lineup set for Valor Fights 51 with Chandler Cole vs. Aaron Bush heavyweight title main event

Valor Fights 51 is set to go down this weekend in Johnson City, Tennessee, and a 12 bout lineup is set for the event. Headlining...

Nate Landwehr set for featherweight title shot at M-1 Challenge 95 this weekend in Russia

Tennessee native Nate Landwehr (10-2) returns to Russia this weekend, as he battles for the featherweight title in the main event at M-1 Challenge 95. The...

Results – Valor Fights 50

Valor Fights 50 went down at The International in Knoxville, Tennessee on Saturday night, and the event featured a total of nine bouts. A pair...

Jason King vs. James Conway title bout headlines Valor Fights 50 in Knoxville

A welterweight title bout featuring Jason King (5-3) and James Conway (2-0) will headline Valor Fights 50 next month in Knoxville, Tennessee. Knoxville Martial Arts...

Gina Elliott vs. Jamie Milanowski set for V3Fights in June

AFS Academy's Gina Elliott will return to action later this year as she travels to Memphis, TN to meet Jamie Milanowski for V3Fights. The flyweights...

Results – Valor Fights 48

The Nashville Fairgrounds are playing host to tonight's action for Valor Fights. A little something for everyone on the card including professional MMA and grappling...

Charlie Alexander and Lathon Lawson to headline Valor Fights 48 on FloCombat

Tim Loy and Valor Fights return to Nashville with a new main event and a blended card for the fans. The original headliner of Lindsey...

Results- V3Fights 67

V3Fights 67 goes down in the familiar confines of Minglewood Hall in Memphis, TN. Title fights are on the line as three championship belts are...