Lots of local ties highlight double header on FloCombat Friday night
It's time to dust off that old FloCombat subscription (do online video streaming subscriptions collect dust?), because there are plenty of fighters with Ohio Valley ties in action this weekend. On Friday,...

Colosseum Combat XLVII features five pro bouts, Zawahri vs. Agnew title fight
Colosseum Combat XLVII is less than two weeks away, and promoter Mark...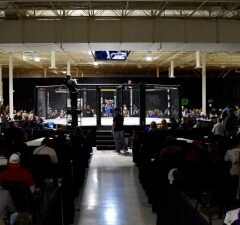 Watch Colosseum Combat XLVI LIVE
Enjoy tonight's Colosseum Combat event live from the Kokomo Events and Conference...

Colosseum Combat XLVI set with 10 fights tonight
The weigh-ins are complete and things are set for tonight's Colossesum Combat...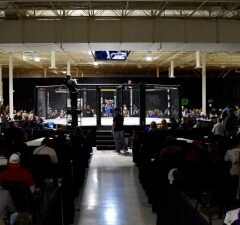 Jones vs. Thornton new headliner for Colosseum Combat XLVI
Tomorrow night's Colosseum Combat show has a new main event. Mark Slater...
Johnathan Ivey explains ending to Colosseum Combat XLV main event

It was an odd way to close out an event but Johnathan Ivey managed to entertain and confuse what now has become a massive audience...

Colosseum Combat XLV lineup set with 2 title fights

The stage is set for Mark Slater and Colosseum Combat's return to Kokomo this weekend. This show will mark the 45th in the series and...

Lance Lawrence to meet Justin King at Hardrock MMA 100

Hardrock MMA will celebrate their 100th event on August 11th at Louisville's 4th Street Live. The milestone is set to offer free general admission as...

Three division champ Tyler Shipp has found his home at middleweight heading into Hardrock MMA 99

After winning titles in three different weight classes last year, Tyler Shipp (6-0) seems to have finally found his home at middleweight. He'll defend his...

Johnathan Ivey vs. Travis Fulton booked for Colosseum Combat XLV

The heavyweight title will be defended on June 30th when Johnathan Ivey returns to Kokomo to face Travis Fulton at Colosseum Combat XLV. The pair...

Recap- Colosseum Combat XLIV

The dust has settled in Kokomo after a big weekend of fights at Colosseum Combat XLIV. A new lightweight champion was crowned, some upsets were...

Chris Curtis, Austin Tweedy set to compete on Dana White's Contender Series

Ohio Valley products Chris Curtis and Austin Tweedy are set to compete on the upcoming second season of Dana White's Tuesday Night Contender Series, BluegrassMMA...

Colosseum Combat XLIV set featuring 4 pro fights in Kokomo

Mark Slater and Colosseum Combat return tomorrow to the Kokomo Conference and Events Center for a a deep card of familiar names and action. The...

Results – VFC 60

Andrew Kapel inflicted heavy damage to his opponent from the bottom and it was enough to pull out a stunning decision victory, ending the eight-fight...

Kapel vs. Nowaczyk to headline VFC 60, Usman vs. Mayes set for co-main event

The main and co-main event is now set for the upcoming Victory Fighting Championship (VFC) event. VFC 60 will take place next weekend, Saturday, April...