Paul Schommer vs. Irvin Jones headlines Premier MMA Championship 10
A pro bout featuring Paul Schommer (0-0) vs. Irvin Jones (1-0) will headline this weekend's Premier MMA Championship 10 in Covington, KY. Schommer makes his pro debut after posting a 7-4 amateur...

Colosseum Combat XLVII features five pro bouts, Zawahri vs. Agnew title fight
Colosseum Combat XLVII is less than two weeks away, and promoter Mark...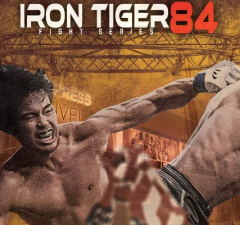 Results – Iron Tiger 84
Iron Tiger Fight Series 84 went down at Express Live in Columbus,...

Results – BCM Promotions: Fight Night 3
Top ranked amateur light heavyweight Dalton Rosta (7-0) remained unbeaten with a victory in...

Pinnacle FC returns Dec. 22, Sean Foster vs. Ethan Hayes title fight set
Pinnacle FC is set to return to the Pittsburgh area just before...
Kellen VanCamp makes V3 debut Saturday

Kellen VanCamp (1-1) will take his talents on the road this weekend as he travels to Tunica, MS to make his debut for V3Fights. VanCamp...

Results – Hardrock MMA 103

Hardrock MMA 103 went down in Lexington, Kentucky on Saturday night, and the event featured a trio of professional contests. In the main event, Ken...

Top ranked Dalton Rosta looks to stay unbeaten at BCM Promotions: Fight Night 3

Top ranked amateur light heavyweight Dalton Rosta (6-0) will look to remain unbeaten this weekend when he headlines BCM Promotions: Fight Night 3 for the...

Hardrock MMA 103 lineup set with two professional title fights

Hardrock MMA 103 goes down tomorrow night at Heritage Hall in Lexington with four big title fights including a pair of professional championships on the...

Que Parks looks for redemption in Heritage Hall return

It's a homecoming of sorts this Saturday when Reaction MMA's Que Parks returns to Heritage Hall. Parks was riding high as a professional with six...

Jeff Pelton vs. Jake Miller set for Caged Thunder 5

Caged Thunder 5 is set to be the promotion's debut pro/am event, going down on Thanksgiving Eve at the American Legion in Kent, Ohio. The...

Four pro bouts set for Iron Tiger 84

IT Fight Series 84 is set to go down at Express Live in Columbus, Ohio later this month, and four pro bouts are signed for...

Watch Colosseum Combat XLVI LIVE

Enjoy tonight's Colosseum Combat event live from the Kokomo Events and Conference Center. Colosseum Combat XLVI Casey Jones vs Lloyd Thornton Markus Hall vs Keair...

Colosseum Combat XLVI set with 10 fights tonight

The weigh-ins are complete and things are set for tonight's Colossesum Combat XLVI tonight. Four big professional fights hold down the card as well as...

Jones vs. Thornton new headliner for Colosseum Combat XLVI

Tomorrow night's Colosseum Combat show has a new main event. Mark Slater and company will return to the friendly confines of the Kokomo Events and...