AG's featured fighter of the week: Jason Riley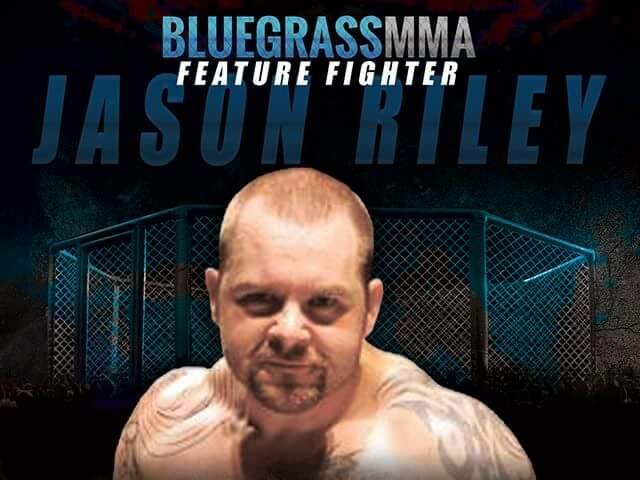 This week's AG BluegrassMMA FEATURED fighter is a guy that I have gotten to know inside that cage and outside the cage very well…
He started his career in 2006 as an undefeated amateur fighter (4-0) and continued as a pro with four more straight wins before taking his very first loss. This Columbus, Ohio native statues over a lot of other heavyweights standing at 6'7" and weighing in at 250 pounds, but once you get to know him he isn't as scary as he looks!!! We are talking about Jason "The Juggernaut" Riley.
I met Jason Riley back in 2007 in Columbus at Buckeye MMA where I started to train with him. At the time he was getting ready for his third professional fight against UFC vet Josh Shockman. A lot of people didn't know the name "Jason Riley" but September 29th he made a lot of new fans when he defeated Shockman in a three round battle. I was grateful to be in the crowd to watch that fight and to watch him start his professional career 3-0.
He continued his winning streak that winter by defeating Shane Lightle for the IFBL Heavyweight Title before tasting his first defeat as a fighter that next spring in his hometown! I asked him what went through his head after losing his first fight.
"After my first lost I was pretty pissed because I felt I didn't get beat because the guy was better than me," Riley said. "I just made a mistake and he capitalized on it so I told myself that if someone is going to beat me it's not going to be because I beat myself it's going to be because they were better."
After that loss Riley went back on a two-fight winning streak, even collecting his second pro title at NAAFS Caged Vengeance 4 against Justin Black. With a 6-1 record, he announced that he was heading to Vegas for the TUF (The Ultimate Fighter) tryouts. Unfortunately Riley didn't make the selection but that wouldn't hold him down and his next fight would be his biggest fight of his career.
Jason would be taking on former UFC Heavyweight champ Tim Sylvia at Adrenaline MMA 4 in Council Bluffs, Iowa. Riley would come out of the fight defeated but would learn a lot for the experience. After that fight Riley would continue his MMA career going 2-1 in his next three bouts before taking another huge fight.
​On August 8, 2010 Jason would take on now UFC Light Heavyweight Champion Daniel Cormier at Strikeforce in Houston, Texas. Once again Jason tasted defeat and would head back home to Ohio. Jason would keep on fighting through 2011 and 2012 but went a losing streak with four straight loses before taking a three-year layoff off from MMA.
We ask him why the huge layoff and he replied with, "After I lost to William Penn I was done with the sport all the politics in the sport started getting to me and my ex-wife was always telling me that it's time to quit either choose fighting or my family, so I chose my family and during that time I ended up going through divorce and just needed to focus on what was most important to me –  my kids. They are the reason I do anything."
I also asked him what changed to the Jason Riley that that went 8-0 in the beginning of his career to the Jason Riley that went 2-5 throughout 2010 – 2012…. "When I first started fighting I fought because I just liked to fight and along the way I changed. I started fighting for money because I was losing my house. My family was falling apart and I just started taking fights just because I need the money versus just doing it because I love to fight. I am back to doing it for the love of the sport I am with a great team at Ronin and enjoy fighting again. To be honest I really knew how much I missed it until my buddy Kyle [McClain] asked me to help him get ready for a fight and it lit a fire back under my ass to do it again."
Like he said it did light a fire and it all would change when he would come back in 2015 to his hometown of Columbus, Ohio at IT Fight Series 33 and defeat Tim Dunn with an impressive TKO finish.
​Jason, now 35 years old, doesn't have a lot more time in the sport of MMA but wants to make the most of it. He is having a hard time doing so because of fights falling through till now. January 16th Jason will be heading up to Akron to take on another Ohio native and undefeated fighter Jeff Hughes at Caged Madness 40. Jason will be looking to continue his winning streak and show that the old Jason Riley is back and better than ever. If you guys are interested in seeing Jason in action you can but tickets here.
Jason: "Like to give a special thanks to Josh Williams for still believing in me. To Lance Phillips, Kyle McClain, Dan Sphon, Travis Davis for being amazing training partners and pushing me and would like to thank Luke Zachrich for creating such an amazing place to train at Ronin and a very special thanks to my girlfriend Rhonda Woodruff and my kids Christian, Leland and Channing for always believing in me."
5 Quick Questions for Jason Riley
How did you start in the sport of MMA?
Jason – I watched UFC when I was a kid and loved it. The one fight that stuck out the most was the David vs. Goliath fights.
When I got older someone told me about a place in London, Ohio that was teaching classes so I went and then signed up for a fight just two weeks after and beat the guy pretty bad. He was a Marion cop, [and] afterward he said he had never been hit so hard in his life. I ended up breaking his nose and both orbital sockets. I've been hooked ever since.
Where did you get the nickname "The Juggernaut"?
Jason – I had been with a gym that friends and I had started called Mad House. I had fought on a card and met Josh Williams, [and] he invited me up to train at Steal Wood so I went up there and trained with what would be my new home for the next 10 years known as Buckeye MMA.
Josh Williams trained me for a fight against a former Ohio state football player he came up with a game plan and we followed it and needed up winning the belt after knocking him out in the first minute. Afterward Josh Williams and Roc Castricone ended up giving me the name The Juggernaut.
What do you want to be remembered from in the sport of MMA?
Jason – I want to be remember for living and dying by the sword that no matter what I always go out and put on a show.
What does it mean to be a fighter to you?
Jason – Being a fighter doesn't really mean a lot to me I feel that you were either born to fight or you aren't. I just like to fight always have I just like to compete.
What is your favorite walk out song?
Jason – I really don't have a favorite walk out song I usually don't pick a song until late a few days before I go on mood that week.