Top 5 reasons to make it to Hardrock MMA 77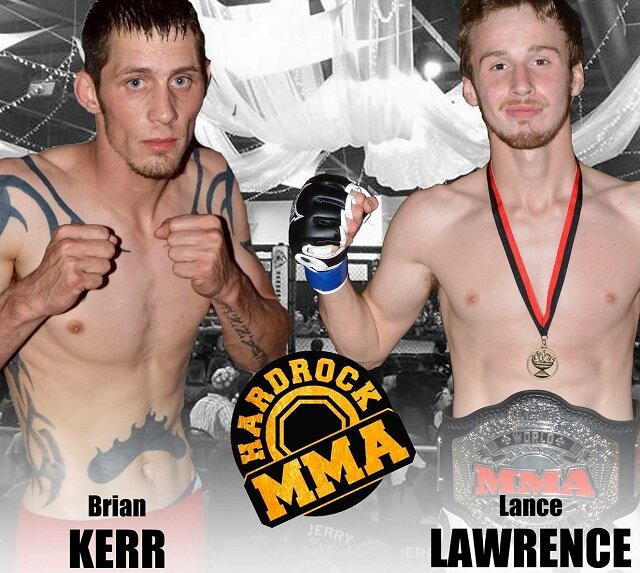 Hardrock MMA kicks off their 2016 campaign in the same spot they closed out 2015 and the company has stacked the deck. The fighters on this card have a huge opportunity to be seen in front of a huge crowd and the fans will be rewarded by the fruits of their labor. Despite the ongoing trend that has become downsizing of local MMA events, Hardrock MMA 77 has 18 fights scheduled at the moment.
If you were on the fence about coming out to the Paroquet Springs Conference Center in Shepherdsville, let me see if I can persuade you with these five reasons you should have your butt in a seat.
5. Quality and Quantity
I remember when having 22 fights was a regular thing at local shows. It was too much really. The norm these days seem to be between 8-12 which I like much better. The 18 fights for Hardrock MMA 77 will be a solid mix of athletes just starting their journey and those looking to make it a career. If you are shelling out your hard earned money, this is a value card.
4. Champion vs. Champion
The former Hardrock MMA heavyweight champs will meet in a professional fight. Harry Hunsucker closed out his amateur career in a title defense over Timothy Pinkston that lasted just over two minutes. He made the jump to the pro ranks where in his last fight he dominated Kevin Powers to get the first round submission. Don'tale Mayes was a force in 2015. He won the Hardrock title and defended it. He brings in a perfect record to the clash. This will be a great fight but don't look for it to get out of the first round.
3. Fight of the Night
It is hard to predict what the fight of the night will be before an event. Sometimes you get pleasantly surprised when a fight that didn't really make the radar stuns you. This card has so many fights that could be electric. The professional fights are evenly matched so we could see a Dusty Stengel/David Crowe fight of the night. I've been a fan of Michael Dabe and Randy Jones so it is possible they pull it off. The main event is scary good. The amateur side of things could steal the show. Shawn Nickell meets Ricky Jones Jr., the Agnew brothers have been nothing short of spectacular and fighters from gyms like Drive MMA, Reaction MMA will be fighting so you know they have what it takes to put on a good performance.
2. Paroquet Springs Magic
I've been going to Shepherdsville to watch fights for five years. Damn. I've never left the venue feeling disappointed but rather just the opposite. Something about the fights there always get me motivated not only for what Hardrock MMA has in store but for spreading the word about local mixed martial arts. The crowds have never been less than wild, the vendors are always great, the DJ is always on point and you know Jason Weinel can work the crowd.
1. Kerr vs. Lawrence
There is always that one fight on a card no matter where you go that you get pumped for. The main event Saturday is that fight for me. Lance Lawrence is one of the best amateur fighters I have ever had the honor of watching live. He's dispatched every opponent with relative ease. That being said, Brian Kerr is one of the toughest guys I know. He was all but asleep when he snapped the arm of Lawrence's boxing coach. These two guys will be ready to throw down and honestly I don't care who wins because I feel like both guys will give the best performance that either have ever put on.
To recap, 18 fights, crazy crowd and some of the area's top talent all under one roof. Stay close to BluegrassMMA for everything that is Hardrock MMA 77 this weekend. Check out the full lineup here.