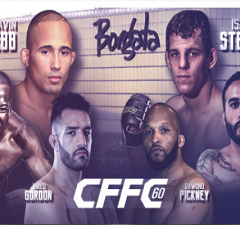 Results – Jonavin Webb chokes out Isaac Steele at CFFC 60
CFFC 60 went down at The Borgata Hotel & Casino in Atlantic...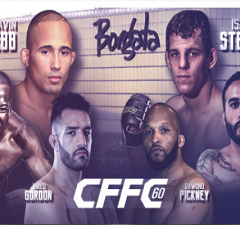 Lineup set for CFFC 60 in Atlantic City
Cage Fury Fighting Championships returns to the Borgata Hotel & Casino in...
Chris Lozano returns to action at CFFC 60 this weekend

After more than four years since his last official fight, Chris Lozano is set to return to action this weekend. Lozano (10-3) is set to...

Isaac Steele meets Jonavin Webb in new CFFC 60 main event

Isaac Steele (5-0) will be heading to Atlantic City in a couple of weeks to make the most of a short notice opportunity at Caged...

CFFC 59 heads to the 2300 Arena with two titles on the line this Saturday

On Saturday night, live from the 2300 Arena in Philadelphia, Cage Fury Fighting Championships (CFFC) returns with an action packed card including two title fights...

Two of the best light heavyweight fighters hailing from the Buckeye State are set to square off, as Dan Spohn will take on Matt Hamill...

Dominic Mazzotta challenges Nick Pace for bantamweight title at CFFC 60

The main event for CFFC 60 is set, as Dominic Mazzotta (10-1) will challenge Nick Pace (6-3) for the organization's bantamweight title on August 6...

CFFC strips Dan Spohn, Anyanwu-Cruz 3 set for heavyweight title in May

Cage Fury Fighting Championships has stripped Dan Spohn (12-5) of his heavyweight title, and former champions Azunna Anyanwu (9-4) and Plinio Cruz (8-6) will fight...

Despite losing four fights leading up to fight night, CFFC 55 was a successful event for the promotion on a big weekend at the Borgata...

CFFC is set to take over the Borgata this weekend in Atlantic City, as the organization will host two separate fight cards at the venue...

FOR IMMEDIATE RELEASE: Next year is scheduled to be a banner year for Cage Fury Fighting Championships (CFFC), but to look in towards the future...

The first-ever women's flyweight title fight in organization history has been added to next month's CFFC 55, as Katlyn Chookagian (5-0) will take on Isabelly...