Lance Lawrence to start 2016 as a professional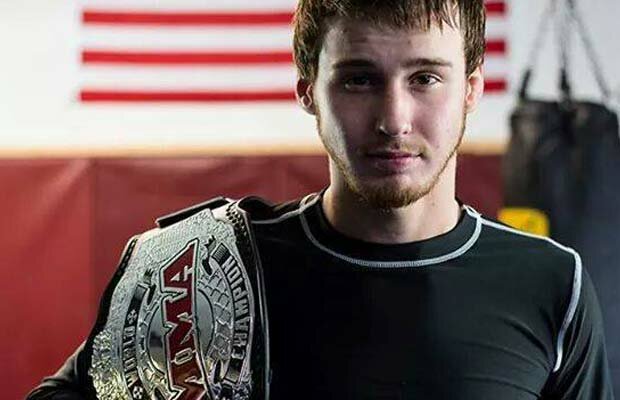 I am pretty sure Ray Charles saw this coming. He was a perfect 3-0 this year and is a strong candidate for the 2015 BluegrassMMA Amateur of the Year. It was pretty obvious after the Area 502 MMA stud dispatched of Kevan Avery in a mere 44 seconds in what would be his last amateur fight. As the calendar changes and we move into the new year, Lance Lawrence will make the leap into the professional arena when he steps inside the cage at Hardrock MMA 77 on February 6th.
Phillip Perkins discussed the move.
We had him set to fight 2 weeks later for the Turf Wars 155 belt, hoping to pick up another title and finish out his ammy career 9-0 but the event was canceled. We planned for Lance to go pro in February regardless. He's just starting his career and on a roll. Everyones finding out Lance has what it takes to make it to the next level. Something I have always known
The 8-0 amateur resets the record books to start the climb all over at 0-0 and meets 2-1 brawler Brian Kerr.
Kerr is a fighter. His martial arts skills may need some refining but make no mistake about it, Kerr lets people know they've been in a fight. He is YouTube famous after punishing Chad Kerr with a brutal head kick but aside from that he has shown that he belongs in the professional realm.
As a matter of fact, Kerr was able to submit one of Lawrence's coaches earlier this year as he dislocated Ruslan Aminov's elbow with an arm bar that is nominated for our 2015 BluegrassMMA Awards Pro Submissio of the Year. That could be added incentive for Lance to step things up in training but don't look for much trash talk coming from his camp.
His coach weighed in Kerr.
As far as his opponent, he's a tough guy but he's just not on Lance's level. Lance is too well rounded. He will take the fight where he wants and dominate in every area. There's nothing he can do to stop it. Lance will be in shape, ready to fight, hungry to win
The road for some professionals starts rather easy but I don't see the fight with Kerr as being a gimme at all. Lawrence will have to be patient and work around the unorthodox style of his opponent. It is a winnable fight for him but it will be challenging nonetheless.  It is a fight that I think people should mark on their calendar.
Hardrock MMA 77 takes place on February 6th at the Paroquet Springs Conference Center in Shepherdsville, KY. Stay close to BluegrassMMA for more on the event.