Marc McDonald eyes redemption at AAMMA 47
Marc McDonald doesn't seem like your average 23 year old. He's already...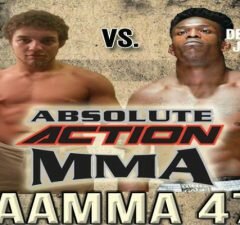 Lineup set for Absolute Action MMA 47
  Saturday's  Absolute Action MMA event is set with 10 fights scheduled...
Absolute Action MMA 47 coming together with three pro fights set

Parag Patel and crew are set to return later this month to The BB&T Arena for AAMMA 47. The card is coming together and features...

Kentucky looking at new weigh in regulations

2016 has seen its fair share of changes as far as athlete weight management. The regulatory bodies across the nation have started adopting new policies...

Absolute Action MMA returns to BB&T Arena on August 27

Absolute Action will return to the venue that has become their home base next month, as Absolute Action MMA 47 is set to go down...

Absolute Action MMA returned to the BB&T Arena located on the Northern Kentucky University campus in Highland Heights, Kentucky for their 6-Year Anniversary Show. The...

Cody Gabelman headlines AAMMA's 6 year anniversary event

  Absolute Action MMA returns to the BB&T Arena this weekend to celebrate their six year anniversary. The main event features G-Force MMA's Cody Gabelman...

This weekend is a significant weekend for Reed Academy; multiple teammates are competing. Tonight inside the Bellator cage Justin McNally (2-1) looks for his 3rd...

We had an overwhelming response to this year's BluegrassMMA awards. Since the polls opened up on January 2nd we have recorded over 7,500 votes. When...

It was a red letter year for us at BluegrassMMA.com. We reached more people and attended more events than any other outlet in the Ohio...

We head into the final fight week of the year with 4 events

It goes without saying that 2013 was the biggest year in our short history. We experienced many great events, met even more outstanding people but...

Chris Dunn to face Derik Byrd this Saturday

A clash in the professional bantamweight division goes down this Saturday night. Chris Dunn (4-3) of Cincinnati, Ohio will square off against Derik Byrd (1-1)...