Lineup set for HRMMA 105 with Lance Lawrence vs. Chris Dunn and two pro title fights
HRMMA 105 heads to the Paroquet Springs Conference Center in Shepherdsville, Kentucky this weekend, and the fight card is deep, with a headliner featuring Lance Lawrence (4-0)  vs. Chris Dunn (14-9), as well as a...

Lineup set for Caged Thunder 6 with Braden Liggett vs. Lucas Mast title fight
Caged Thunder 6 goes down at the American Legion in Kent, Ohio...

Isaiah Chapman vs. Donnie Ballou set for Honor FC 8
Honor Fighting Championship is just beginning to put together the lineup for...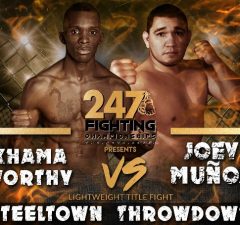 Khama Worthy vs. Joey Munoz headlines debut 247 Fighting Championships event
A new Pittsburgh area promotion is set to debut in March, but...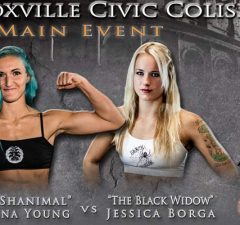 Lineup set for Valor FC 54 in Knoxville
Valor Fighting Challenge 54 heads to Knoxville this weekend, and the lineup...
Lineup set for Pinnacle FC 18 with Khama Worthy vs. Tim Cho headliner

Pinnacle FC 18 is set to go down this weekend in Pittsburgh, and the lineup is now set for the event. Headlining the fight card...

Read More

Top 5 fighters to watch on the Pinnacle FC 18 amateur card

This weekend's Pinnacle FC 18 is anchored by four pro bouts, but if you've followed local MMA for any amount of time, you know that...

Read More

Top 5 Reasons You Should Care About Hope Chase vs. Heather Walker-Leahy at Pinnacle FC 18

For the first time in promotional history, Pinnacle FC 18 will feature a professional women's bout, as Hope Chase (0-0) will make her pro debut against Heather Walker-Leahy (1-0). Here's why...

Read More

Top 5 Reasons You Should Care About Fadi Shuman vs. Mike Dyess at Pinnacle FC 18

In one of the more underrated bouts at this weekend's Pinnacle FC 18, Fadi Shuman (0-1) will look for his first pro win as he welcomes...

Read More

BCM Promotions closes out 2018 with Fight Night 4 this weekend in Mansfield

BCM Promotions will close out its 2018 slate this weekend, as Fight Night 4 is set to go down at the Masonic Temple in Mansfield,...

Read More

Top 5 Reasons You Should Care About Travis Davis vs. Josh Fremd at Pinnacle FC 18

In the co-main event at Pinnacle FC 18, Travis Davis (6-2) and Josh Fremd (3-1) will square off for the pro middleweight title. This fight...

Read More

Ruben Warr vs. Sean Fallon lightweight title bout added to Hardrock MMA 105

A professional lightweight title bout has been added to Hardrock MMA 105, as Ruben Warr (11-10) will face Sean Fallon (8-5) for the vacant crown...

Read More

Top 5 Reasons You Should Care About Khama Worthy vs. Tim Cho at Pinnacle FC 18

Pinnacle FC 18 is just a few weeks away, and the main event this time around is going to be a fun one. Khama Worthy...

Read More

First pro female bout set for Pinnacle FC 18

For the first time in promotional history, Pinnacle FC 18 will feature a professional women's bout, as Hope Chase (0-0) will make her pro debut...

Read More

Results – Hardrock MMA 104

Hardrock MMA returned to Elizabethtown this past Friday night for its 10-year anniversary event, as Hardrock MMA 104 went down at the Pritchard Community Center. In the...

Read More

Brandon Bell signs with M-1 Global, makes debut December 15th

Harlan's Brandon Bell will be making his first trip outside the country following his recent signing with M-1 Global. Bell announced that he had signed...

Read More

Lineup set for Hardrock MMA 104 10-year anniversary event in Elizabethtown

Hardrock MMA returns to Elizabethtown this Friday night for its 10-year anniversary event, as Hardrock MMA 104 is set to go down at the Pritchard...

Read More

SAINT PETERSBURG, Russia (November 28, 2018) — M-1 Challenge featherweight champion Nate "The Train" Landwehr will make his first title defense December 15, headlining M-1...

Read More

Adam Townsend headlines Brave 19 on December 8th

Adam Townsend returns abroad for his next fight as he as inked a new deal with Brave Combat Federation and will headline Brave 19 in...

Read More

Four pro bouts set for all-pro Valor FC 54 in January

Tennessee's busiest promotion is set to kick off its 2019 campaign on January 19, as Valor FC 54 goes down at the Knoxville Civic Coliseum....

Read More